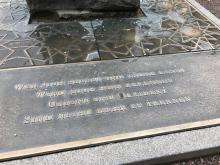 Delighted to say the The Two Chairs Writing Competition 2017 will culminate in an awards ceremony and reading on 9th May 2018 to take place in the wonderful Hollywell Music Rooms Oxford and a writing workshop with the judges in New College, Oxford.
This creative writing competition is open to everyone. It asks you to consider the pictures of the two stone chairs. The chairs make up the 'Hafez-Goethe Monument' in Weimar, Germany. This commemorate the work of the German poet Johann Wolfgang Goethe (1749-1832), whose collection of poems the West-Eastern Divan (1819) not only imagined a dialogue between the Christian European and Islamic worlds, but also sought to break down of rigid cultural divisions between them. The chairs, though, were left empty by the sculptors in 2001. They do not only represent Goethe and his Muslim counterpart, but allow anyone to occupy them, or even to 'swap' chairs and see the world from the 'other' perspective.
The final date for entries is 2 March 2018, 5pm.
Competition entrants and winners will also be invited to attend a prize giving ceremony and live performance at the amazing Holywell Music Rooms, Oxford, on Wed 9th May 2018 (please save the date!) and the winners in each category will attend writing workshops with our panel of renowned judges: Ian Macmillan; Momtaza Mehri; Hannan Issa; Karen Leeder
See full details of the compeition here and the entry form. Prizes for over and under-18s
Part of Transnationalizing Faith with James Hodkinson j.r.hodkinson@warwick.ac.uk; Thanks to Mediating Modern Poetry (mmp.mml.ox.ac.uk) and @TwoChairsWriting.